We use 3D digital technology to create our Sequential Invisible Aligners. Through digital scanning of your model or using an intra-oral scan you provide we can accurately align your patients teeth to an ideal form.
Unlike other labs systems, ours is not a cookie cutter three tray or five tray product. We will plan out your case & then fabricate the number of trays required to meet your treatment objectives. We also digitally store your aligner cases so if a replacement is ever needed we can fabricate without additional impressions.
example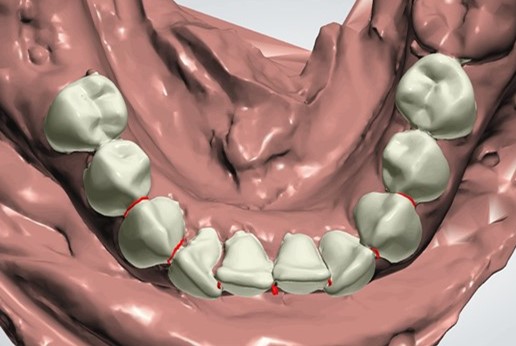 Before: This patient wanted to alleviate crowding & align her lower anteriors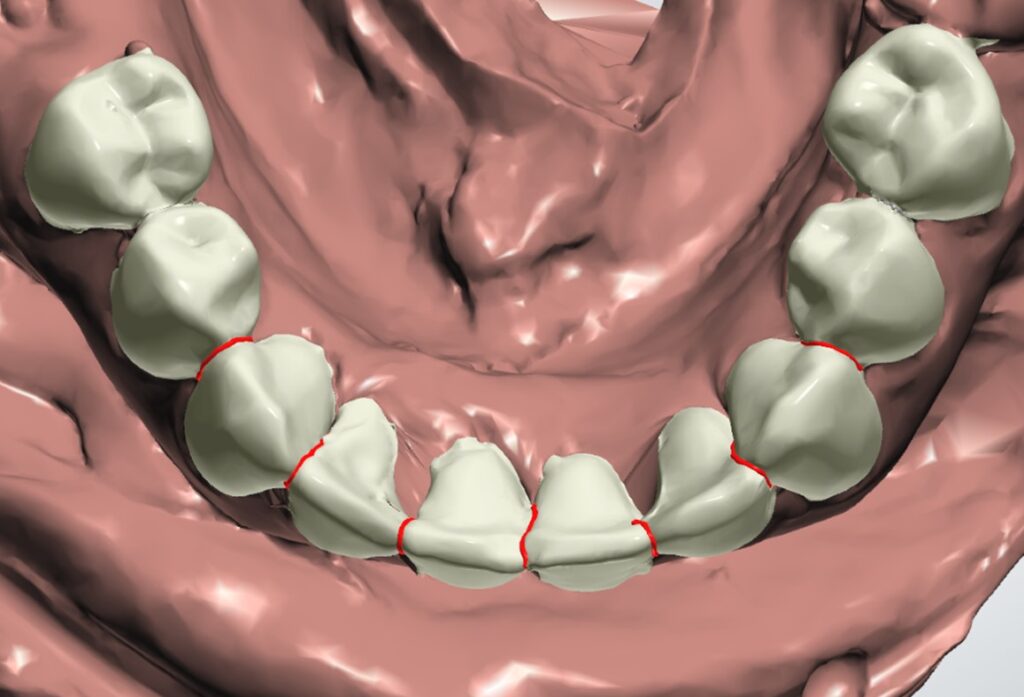 After: We digitally aligned the teeth & analyzed the movements. Then provided the practice the aligner trays (in this case 4 trays) along with a guide to where & how much inter-proximal reduction was necessary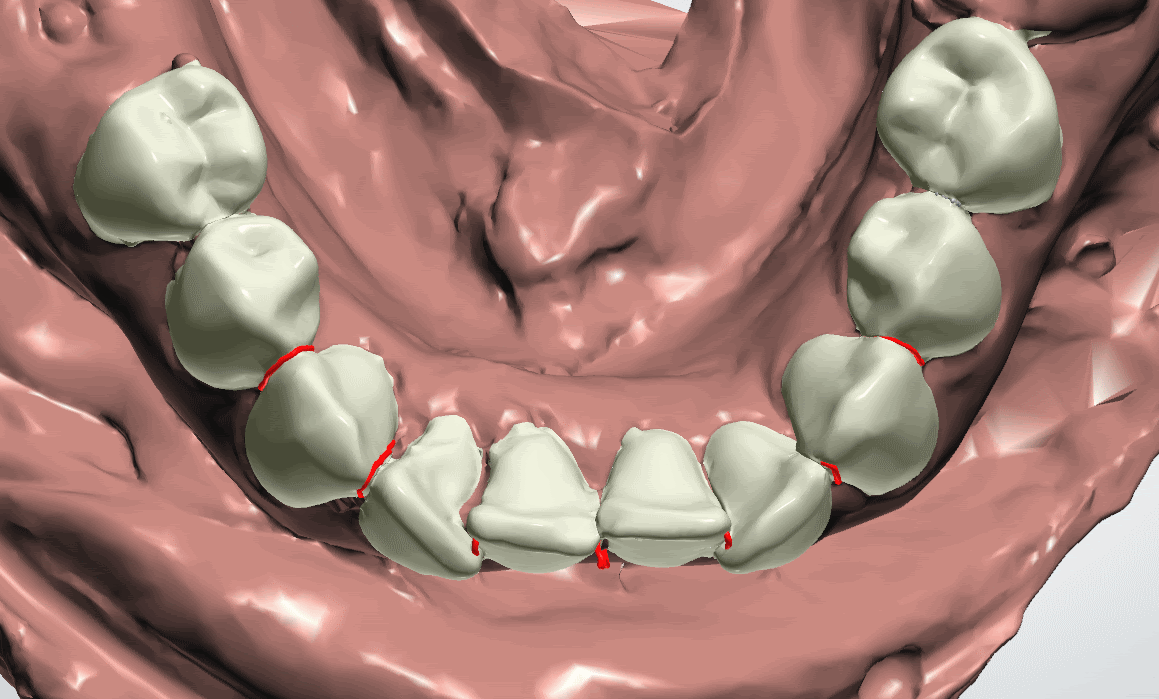 Fox Valley Lab uses Zendura FLX tray material for our aligner systems, giving your patients greater comfort & effectiveness. This tray material is technologically the most advanced aligner tray material available.
About our tray material
Zendura FLX is a unique trilayer shell design that has extremely durable outer layers sandwiched with an elastomeric core. This provides continual light forces which is more effective at tooth movement.
Due to the greater strength of this new material trays are 25% thinner which translates to greater comfort and better compliance with less effect on patients occlusion.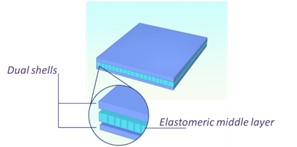 Stress retention is a fundamental property of Zendura to resist changes in the plastic throughout each treatment phase. What this means is the plastic maintains its memory and provides a constant pressure resulting in successful tracking with our aligners. It is also why you will notice better long-term retention.
Zendura's unique rigid polyurethane formulation combines high strength and ductility with low-stress relaxation and practical toughness

Bay Materials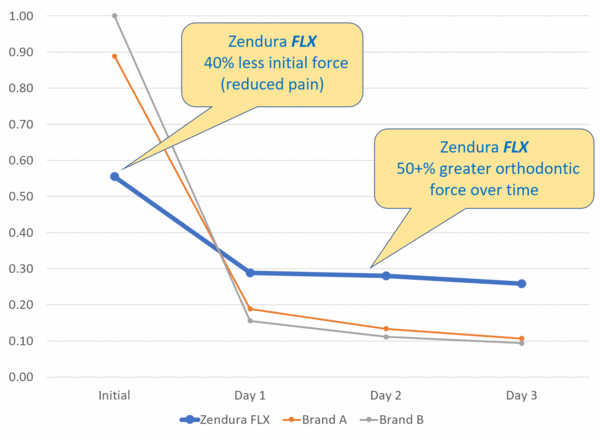 Crack resistance & strength: Eliminating breakage means improved patient wear compliance and reduces remakes. Because of Zendura's strong polymer backbone, it has a high resistance to cracking. In impact strength tests conducted alongside other preferred orthodontic materials, Zendura is found to be 2X more crack resistant than its closest competitors. Zendura appliances have been used in retention and also night guard applications for periods as long as three years.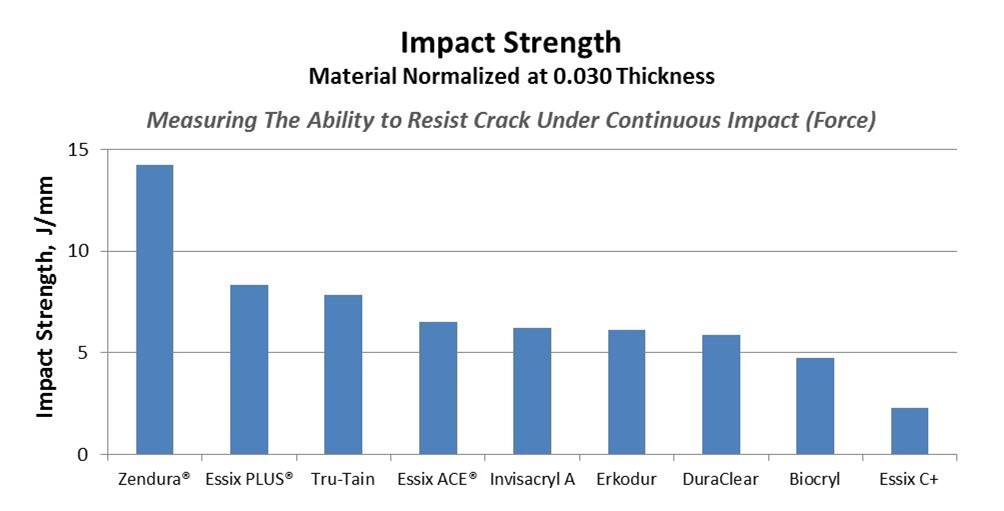 Clarity & Stain Resistance: The oral cavity is a particularly harsh environment. Highly caustic and staining agents like mustard, tea or coffee are often present. Zendura maintains exceptional clarity and color stability throughout the treatment phase. Bay materials conducted stain testing. Retainers were submerged in yellow mustard and placed in a 37C (98.6F) oven for 24 hours. Zendura showed little color change, while its closest competitor had over 3X the amount of yellowing.